Weekly Announcements
Week of December 14, 2022


---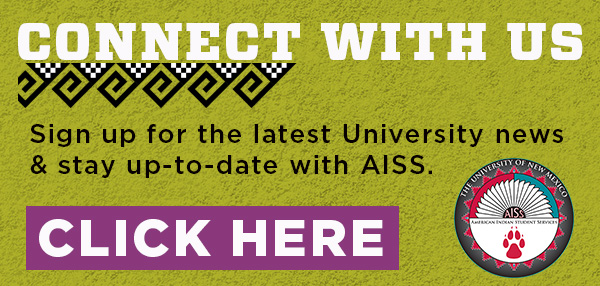 '
---
---
Need a Degree Plan Checklist?
Tribal Scholarship deadlines are coming up and various scholarship may require a Degree Plan Checklist. Check your application requirements and schedule make an appointment with an AISS Advisor to discuss your future course work! Schedule through LoboAchieve – see directions outlined in AISS Advisement section below.
---
AISS Advisement

Need help discussing course options or have other questions about how to have a successful semester? Set up an appointment through LoboAchieve.unm.edu (see below for instructions). If you are not a current UNM student, appointments are also available by calling 505.277.6343. Check out the following link for AISS Advisement resources: http://aiss.unm.edu/services/advisement/academic-advisement.html. 
Go to LoboAchieve.unm.edu
Login with your UNM NetID and Password
To find an AISS advisor:

Option 1 – via the Home Page, find American Indian Student Services under the Integrated Advisement section
Click "Schedule Appointment"
Select your preferred advisor, time, & date 
Option 2 – Using "Schedule Appointment" button OR "Advising Offices" tab on the navigation bar
Click "Find Advising Offices"
Find American Indian Student Services, and click "Schedule Appointment"
Select your preferred advisor, time, & date 
*Note: Students will not be able to create same day appointments*
Once a time & date is selected a window will pop up containing the important information regarding the advisement session

Scroll down to select your Meeting Type
You can select a Phone Meeting, Videoconference via Skype for Business, or Online Chat via Skype for Business
*Note: To download & use Skype for Business go to https://unm.custhelp.com/app/answers/detail/a_id/7345/kw/skypefor details & instructions*

Provide a detailed description of why you are making this appointment
Click "Schedule"
Once the appointment is created, a confirmation will be sent to your UNM email
---
UNM Coronavirus (COVID-19 Information)
Get direct access to all COVID-19 campus procedures and news: http://www.unm.edu/coronavirus/index.html.
---
Important UNM Deadlines
- Friday, December 16, 2022 is Fall Commencement at University Arena (aka The Pit) at 6:00 pm.
- Friday, December 16, 2022 is the last day to report removal of Incomplete.
- Saturday, December 17, 2022 is the last day of classes for Fall Semester.
- December 23, 2022 - January 3, 2023 is Winter Break - University Closed.
---

---
Upcoming Scholarship Deadlines

- DECEMBER 2022/JANUARY 2023 Scholarships
Visit http://aiss.unm.edu/scholarshipsfinancial-aid/private-scholarships.html for a listing of scholarships with December 2022 & December 2023 submission deadlines. For specific application and guideline information, click on the links provided.
- Native American Environmental Arts and Humanities Scholarship
Completed application packets for the Spring 2023 semester are due December 16, 2022. For application and guidelines, please visit https://aiss.unm.edu/scholarshipsfinancial-aid/institutional-scholarships.html.
---
---
---
---
---
---
---